Small Sequoia
This large, round Sequoia is a glorious specimen with a strong visual presence. It is impressive in size, shape, and composition, and showcases a complementary pallet of warm colors.
 This beautiful specimen was excavated from Priday Ranch in Central Oregon in 2013. The Oregon region is an exceptional area, well known for producing the highest quality of petrified wood in the world. Estimated to be 38 million years old, the sequoia fossil is your portal to the Eocene era. With rich geological and biological detail, you can touch, feel and examine this beautifully preserved gift from nature. The specimen has been expertly cut, polished and crafted so you can marvel at the minerals that replaced the once organic material of the now extinct Sequoia pine tree.
 The specimen has a soothing aesthetic with warm, calming colors. The fossilized Sequoia is high in definition with a clear center and annual rings. A kaleidoscope of glossy greys, milky whites and caramel browns surround the heart. As if perfectly painted by an artist, the specimen has illuminating golden tints that both frame the center heart and highlight the distinct outer ring. These pleasant golden tones indicate the presence of iron and carnotite, whilst the milky whites indicate fluid or gas inclusions and the caramel browns indicate ferric iron-bearing minerals.
 This grand specimen will exude elegance and warmth in any room. Impossible to scratch or fade, the shape and size of this Sequoia fossil gives rise to many possible uses, such as a statement wall mount for a gallery or table top for an office. At an impressive 64" wide X 68" in length its sheer size will allure viewers to admire this historic symbol of nature.
Want to purchase this piece?
CONTACT US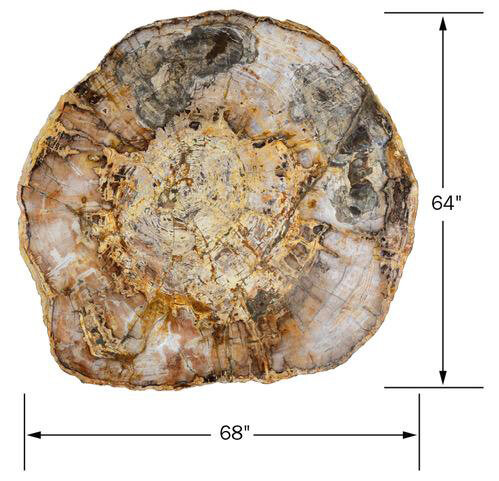 Size: 64″ X 68″
Age: 38 Million Years
Location of excavation: Oregon
Year of excavation: 2013
Ranch: Priday Ranch – Central Oregon
Shape: Round
Price: P.O.R