ABOUT RUSSELL-ZUHL
The story of Russell-Zuhl centers around a fascination with one of nature's most magnificent gifts: petrified wood. It begins with the "father" of petrified wood Herb Zuhl, the first person to source specimens of stature and quality and continues with Ralph Thompson, the "specialist" of petrified wood, who sources and polishes petrified wood of a standard that cannot be found anywhere else in the world. Here is how their journey began…
Ralph Thompson's fascination with petrified wood started when he was a boy in Iowa and would accompany his father on rockhounding trips around the USA to dig for fossils and minerals. It was on one of those trips to Montana at 10 years old that Ralph discovered his first ever piece of petrified wood.
WHEN RALPH THOMPSON MET HERB ZUHL
WORLD LEADER
Ralph is the only person in the world to excavate and polish such large specimens of petrified wood of magnificent quality. He feels privileged to have access to sources in Arizona, Washington and Oregon, home to the finest petrified wood in the world. Ralph has a profound respect for petrified wood – from those he excavates, only the specimens he considers truly spectacular make it to his showroom.
Ralph has developed many special techniques for working with such large pieces, impregnating the stone with a fracture sealer and backing to assure safe transport and mounting. The top surface is hand polished to produce a mirror-like natural finish. Such skilled petrified wood workmanship is unmatched anywhere.
INSPIRING PASSION
Ralph credits three people for enabling him to fulfill his passion: Herb Zuhl, his father Pahl Thompson, and Terry Monahan, Ralph's long-term colleague who has used his expertise to polish Russell-Zuhl's petrified wood to exceptional standards.
"My father introduced me to these spectacular elements of nature, Herb Zuhl revealed to me the true magnificence of petrified wood, and Terry's quality workmanship is the cornerstone of the business. I could not have done it without him."
"I want to acknowledge my long-time help, Terry Monahan. He has devoted his career to producing a superior finished product. His quality workmanship is the corner-stone of the business and I could not have done it without him."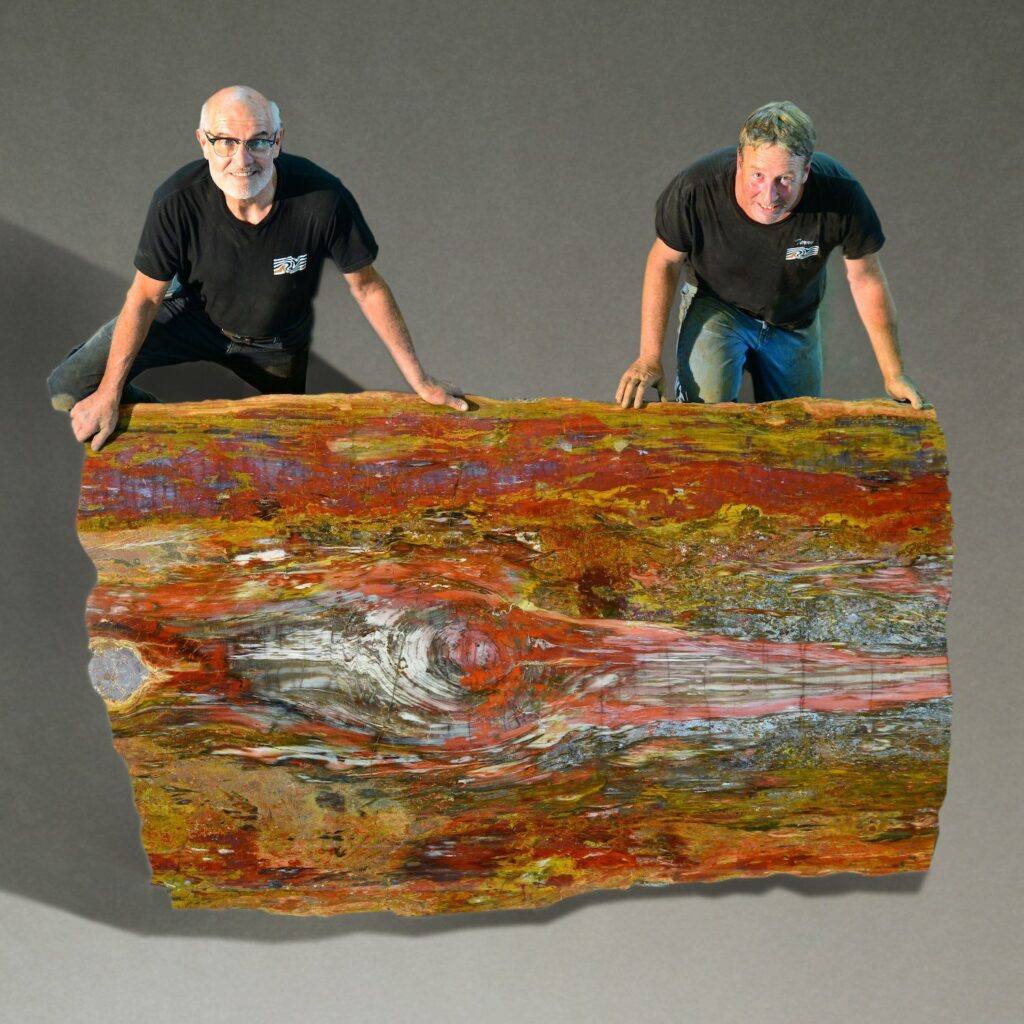 Ralph Thompson & Terry Monahan by the Knot Log
Recognized for their beauty, Ralph's pieces are prized by collectors and furnish some of the world's finest homes, businesses and educational institutions in the world including: