Golden Sequoia
This specimen is called the "Golden Sequoia" because its golden tone and striking growth rings cannot be ignored. This is a stunning example of nature's beauty.
The large petrified wood display specimen is truly breathtaking; every grain showcases its rich level of history, capturing the drama that unfolded millions of years ago. Gaze your eyes upon of the radiant colors and watch as light finds the hidden intricacies. A true rarity, the color palette is a warm bouquet of golden tones, burnt ambers and deep hazel.
A bridge to the Eocene era, this Golden Sequoia is enchanting, spectacular, and commands attention. A powerful specimen standing 67" tall, 92", this one-of-a-kind piece is ideal to wall mount in a grand hallway to greet your guests but it is also deserving as a main focal point in your sitting room.
Of special interest, studying the annual rings you will note that the tree lived a simple life for 300 years. The annual rings are quite symetric. Then for the proceeding years, the annual rings on one side grew larger causing the oval shape that we observe in the picture. This would be attributed to additional sunlight caused by the tree next to it falling over thus providing that side of the tree more sunlight.
This Golden Sequoia has been sourced from the Central Oregon region, an area of rich biological history with geological significance. Dated at 38 million years old, it is a large specimen with an impressive polish that represents true appreciation and respect for nature . Solid, impressive polish.
This Specimen is spectacular!
Want to purchase this piece?
CONTACT US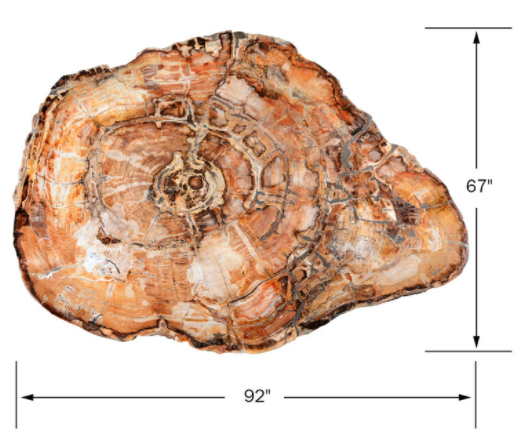 Size: 67″ X 92″
Age: 38 million years
Location of excavation: Oregon
Year of excavation: 2006
Ranch: Madras Ranch – Oregon
Shape: Round
Price: P.O.R