Giant Sequoia
A truly unique petrified wood specimen. This giant sequoia, excavated on Priday Ranch, Central Oregon, in 2018,  is worthy of display in a museum for all to admire. This fossilized slice is of a 'Giant Sequoia', one of the most massive individual trees to have ever existed on Earth. Sourced from the Oregon region, it is estimated to be 38 million years.
With a kaleidoscope of circular patterns, rich in details, this Giant Sequoia is irresistible.
This round petrified wood is a delight for biology enthusiasts as its original cellular structure and grain can easily be examined. Touch and explore the definitive outer bark level before exploring the tree's growth rings. Equally satisfying for those geology enthusiasts is the incredible mix and clarity of the colors within this rare specimen. Admire the pools of silicon dioxide that produce those milky creme colors and carbon and iron oxides responsible for the black and hazel tones.
Imagine all of those years that this tree lived, all that history locked in time – it truly is your bridge to the past!
Clear ring structure, solid and most impressive size, our largest  specimen is suitable for standing display, table, desk…
Want to purchase this piece?
CONTACT US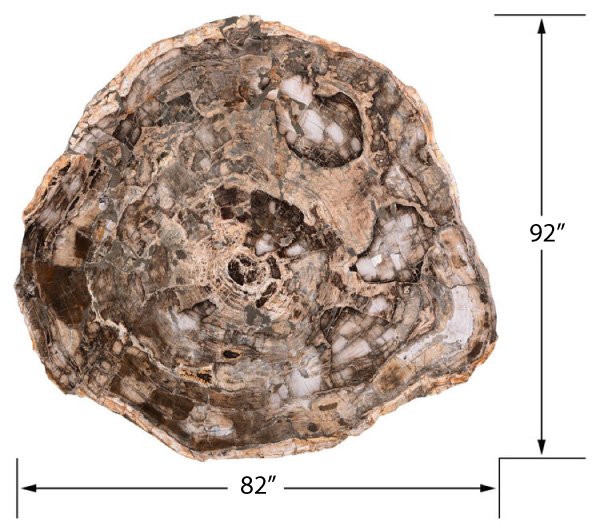 Size: 82″X 92″
Age: 38 million years
Location of excavation: Oregon
Year of excavation: 2013
Ranch: Priday Ranch – Oregon
Shape: Round
Price: P.O.R