Long Board
A true rarity, these petrified long boards specimens are a once-in-a-lifetime find. Exceptionally colorful with spectacular patterns, there simply aren't enough adjectives to describe these unique and unforgettable specimens. They are the finest fossilized pine available.
Even the most seasoned collectors will be in awe of these stunning pieces of petrified wood. With vivid colors, crisp clarity, rich biological and geological detail, they are simply breathtaking.
The large, petrified wood log was sourced from Fitzgerald's Ranch in 2019 – an area in Arizona known for producing the highest quality of petrified wood specimens. Approximately 220-million-years have passed since this giant pine tree lived, and it is now available for you to touch and visually explore this prehistoric snapshot in time.
A jaw-dropping specimen, the clarity of these colors, patterns and details will amaze anyone. Experience a full rainbow of colors, from candy reds, golden rivers, smoky blues, crisp whites, earthy browns to burnt embers. The contrasting colors, particularly the golden tones against the Arizonian red is so alluring that one could spend hours exploring. The unusual colors of blues, whites and purple streaks within the quartz only add more drama to this piece. Incredible!
The sheer sizes of these logs give plenty of opportunities to showcase the log specimens in your home or office as a statement art wall mountor convert it into a long boardroom table. The long specimens are the highest of quality, they could also be displayed in a museum for the world to admire.
Want to purchase this piece?
CONTACT US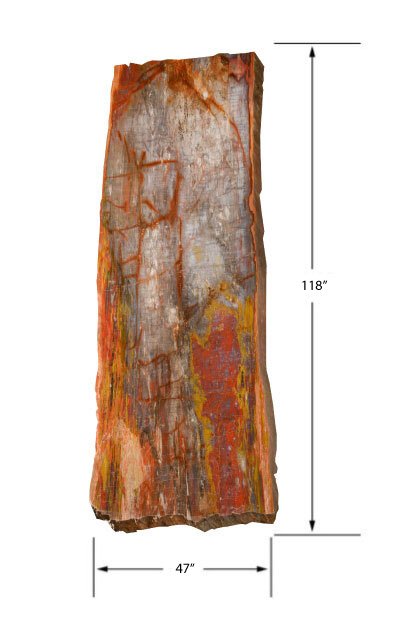 Age: 220 million years
Location of excavation: Arizona
Year of excavation: 2019
Ranch: Fitzgerald
Shape: Board
Price: P.O.R
Descriptions: Finest specimen