Knot Log
Brilliant, incredible, and totally unique, this rare petrified board exudes excitement and sophistication.
With a strong visual presence, this extra-large specimen of pine wood will be your connection to the gateway of time: a preserved fossil, capturing life from 220 millions of years ago in this one piece for you to admire.
Boosting a beautiful center-piece knot, this Arizonian specimen is an homage to both history and geology. A powerful specimen with both macro and micro details, the river of colors to explore is endless. Examine the fine intricacies of this masterpiece as the entanglement of colors unravels elegantly across the board. A harmonious blend of earthy reds, burnt toffee, rusty glows and splashes of golden honey will complement your interior space.
At an impressive 58" X 84", you will be proud to hang this rare board on your wall. Watch your guests admire it as it inspires conversations surrounding the preservation of time and history. The petrified wood specimen could be also converted into a dining or conference table. It would be an outstanding, exceptional natural piece of furniture that cannot be found anywhere else. Let this completely unique item become part of your history, as your important life events are planned and created across the table.
Worldwide shipping is available. Contact us to discuss the best options available for you.
Want to purchase this piece?
CONTACT US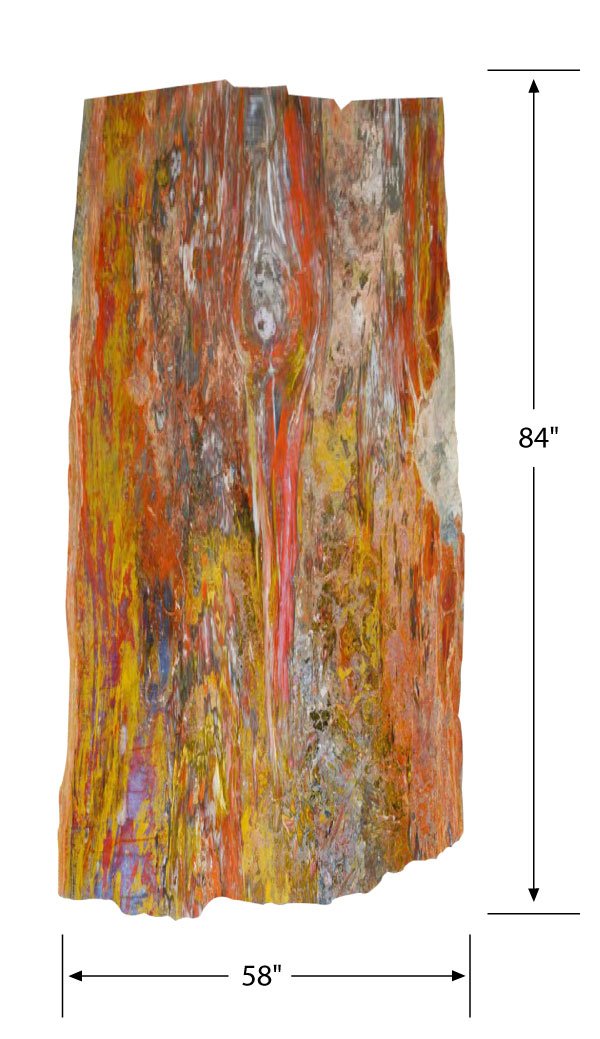 Size: 58″ X 84″
Age: 220 million years
Location of excavation: Arizona
Year of excavation: 2020
Ranch: Fitzgerald Ranch – Central Arizona
Shape: Board
Price: P.O.R